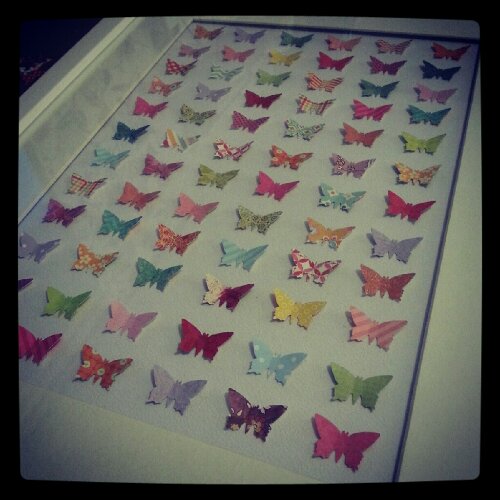 Long time, no posts.. I haven't created much lately, my inspiration went on a vacation in the beginning of this year and it still hasn't returned. Maybe next year?
There might be a lack of time as well, the last weeks passed by with me working during the days, working out afterwards and trying to avoid being home alone too much since I'm a comfort/bored & alone eater.
Instead I have filled my spare time with shopping, a few running attempts and lots of rides with my bike. I also did some work to improve my tiny apartment. I will post something about this later on, right now I'm trying hard not to fall asleep. I'm completely exhausted from this evening's physical activities (outdoor training with focus on legs)!
Last Sunday we got together to craft again, me, Malin and Jennie. Awesome as usual (especially the food, oh it was delicious!)
They both managed to scrap a lot (especially Malin, the turbo-scrapper!) and I managed to cut out 98 flowers and 80 butterflies. Yay for doing the same thing over and over again, yaay..  Anyway, inspired by a pin on pinterest, I made this butterfly picture and I must admit that I am very pleased about how it turned out. I think about summer when I look at it, and the best part is, I got to use Jennies stash (and my own of course).
By the way, go read about her new project:

I am considering accepting this challenge, I just have to.. uhm.. think about it again and, ehm.. extend my stash with stuff I can live without.. kinda.. but I do love the mustaches so.. I think I have to join her!