The first theme in the challenge is finished and it's been in my mind for a few years now. I ordered the frames last year and painted them with a black glossy color and after that they've just been lying around waiting for me to find a proper background. Today I decided to finally finish the pictures and use different background colors for each figure. No more thinking and pondering, just doing!
I bought the figures at Disney World in Florida over ten years ago and for a few years they were used as decoration on my school bag (Pooh actually belongs to my brother and he used it as a bag decoration too) so they are a bit worn but it's quite charming!
So, to get started I went through my scrapbooking papers and tried to find the best color. I recently ordered a big pack of plain papers in 20 different colors, very useful!
I found the papers, cut them to fit the frames and mounted them.

I cut out the back sides on the figures since they were bulging out and making it harder to mount them on the papers.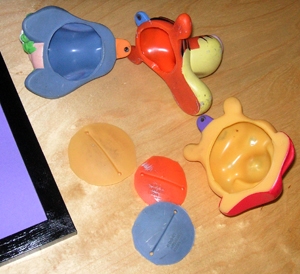 I used my glue gun and mounted the figures on the paper, had to add hangers to the frames as well but after that they were done!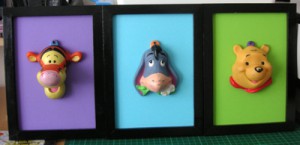 And finally hanging on the wall!