I had some time to spend in my closet last weekend and I decided to open my jar of gesso and try it out. I used it on plain white cardstock with some of my Memorybox stencils. It got a bit sloppy and quite messy but the result was very nice! I wasn't sure about what to expect or how to use it when I started this experiment but figured things out along the way. I believe there are a lot of cool ways to use gesso with colors and other things for me to discover, mixed media seems to be a world of it's own!
When the gesso was more or less dry I used some dylusions to see what would happen and later on I also found some acrylic paint to continue with. I colored the gesso parts of the paper and stamped some flowers on another sheet and colored them with the acrylic paint plus some water. We can summarize this weekend with the words a colorful mess, but it sure was fun!
Using gesso and some sprays and mists I managed to create one birthday card following Crafty creations challenge #283: White plus one, I chose turquoise (or is it more like teal maybe?)
I added some glitter and sequins and one of my sentiment dies. On the background I used my Memory Box Modern Chic Chevron stencil with gesso a bit in the middle leaving most of the card plain.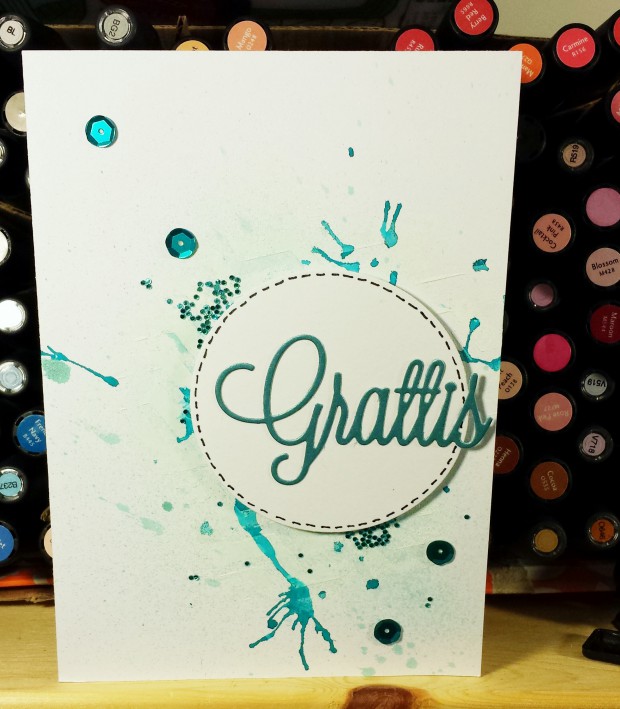 There was this other challenge I found interesting: Ciliinpapers monthly challenge: Make a card or project life card without patterned paper. It fitted perfectly for my experiments! Using gesso (again), my new Technique Tuesday die and some stickers from Sn@p! Stickers – Icons I made this PL sized card. I used gesso with my Memory box stencil Texture Dots over the background but it's hard to see on the image. It really looks awesome!
This might not be the best PL card I'll ever make but it was a fun experiment! I used gesso, quite sloppy to be honest, and some dylusion spray for the color. It was a good example to see how different the color looks on plain cardstock vs. gesso on cardstock. Since the stars got so messy I decided to mark the edges with a fine liner. I put some alphabet stickers on too. I cut the card using my Technique Tuesday die. The stencil I used was Memory Box Stars Star show.