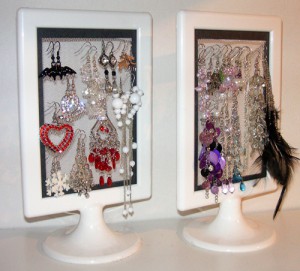 Unfortunately I didn't come up with this one myself, I got inspired by this post on IKEAhackers and I just had to make myself a few for all my earrings. Before the hack was born I used one of those paper stands for mail and such, similar to IKEA's DOKUMENT webbed surface. Perfect for earrings with hooks!
I got bored and thought this would look nicer, unfortunately I had no cross-stitch canvas at home, just some tulle and thicker paper. Since the tulle is quite soft and weak it wouldn't stand in the picture frame with any heavier earrings on so I created some sort of frame with my thick paper. I had to use both double-sided tape and super glue to make sure it would hold up. I even put a few staples around the edges, I don't trust glue that much ;)
As you can see, my earrings are quite heavy and the tulle does hang down a tiny bit on the left image.
After putting my earrings up I thought I needed something for my pin earrings so I took some of my favorite paper (both are from DCWV's collection Black Currant) and punched small holes to stick the earrings into and close on the back side.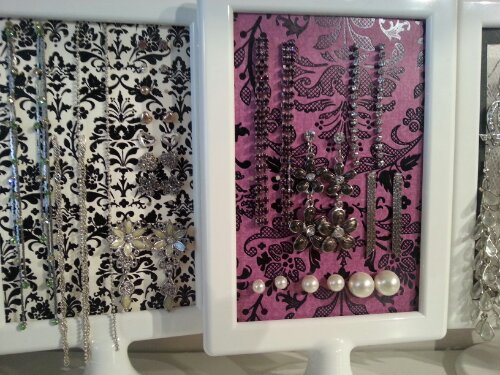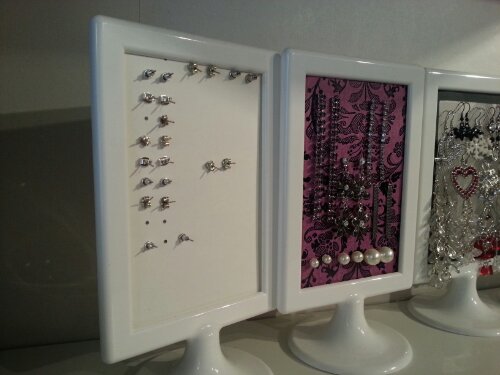 If I ever get bored of the paper in the frames its so easy to replace. I'm sure it works with paper for the hook earrings as well.. maybe one day ;)
It does bother me a bit that the pattern is very bold, it does look quite messy but I just love the purple one, it looks great with the white frame too!