So.. I've been quite quiet for a while now, mostly because of the photoshop course I had to finish. I put the rest of my life on hold and it took a while to get back on track again. Now it's back to normal again and I have been working a bit with the DIY for the scarf and a new Christmas project!
It's not finished yet but I'll give you a sneak peak with some pictures of the process! I'm going to buy a few items for the project (and another one I've had in mind for a few years) later today! Yay!
I think I have to start working on my Christmas cards quite soon too and all the Christmas gifts. Christmas is the worst time of the year (I still love it tho), so much to do and so little time! I have a list of Christmas goodies I'm planning to make such as saffron buns (love love love), an awesome gingerbread house and some snacks! I might even try making my own truffle again, hopefully more successful than last year. I also plan to make my own Mozartkugeln. I just love them!
I think the list of Christmas cakes and candy will grow larger in the near future! Luckily I got a long weekend before Christmas Eve so I might actually have the time to do all this and more!
Anyway, here's the promised sneak peak!

Started off with painting the numbers red.

Added some glitter…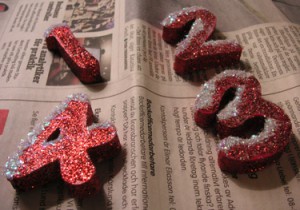 ..and some more glitter! Kinda looks like snow, doesn't it?