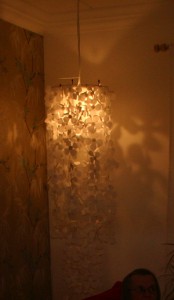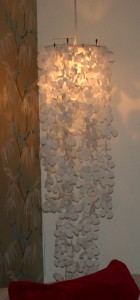 This project has been in my head for quite a few years now. I saw this outstanding lamp at my aunts house, I can't even remember when it was, it's THAT long ago! She got inspired by this beautiful creation but thought it was a bit expensive (and creatable). I might have a picture of her lamp somewhere… Yes! And now my lamp feels scrawny, have to feed it with a few more strings of flowers, or well, my lampshade is a bit smaller so it might look weird. I will look into it when I actually have space for it. Until then, here's a short DIY for you (and the pics from my aunt's version, I love the light it gives)!
What you need:
a lampshade, with or without fabric
vlieseline, same amount as the fabric you choose. Not sure how much I used to be honest but the size of your flowers matters so just go for something and purchase more if needed
cotton fabric of any desired color, white might look best if you only can find white vlieseline
a few meters of fishing line or any other discrete and strong thread available
floor protectors, I went to IKEA and got a few packages of FIXA. Floor protectors anyone?
a pair of sharp scissors. You will cut a lot unless you have some other nifty way to cut out the flowers (I was clever enough to use my Sizzix Big Shot, I honestly think this project still would be unfinished without it)
some sort of flower template unless you want to draw every single one by hand, might be fun too!
iron and an ironing board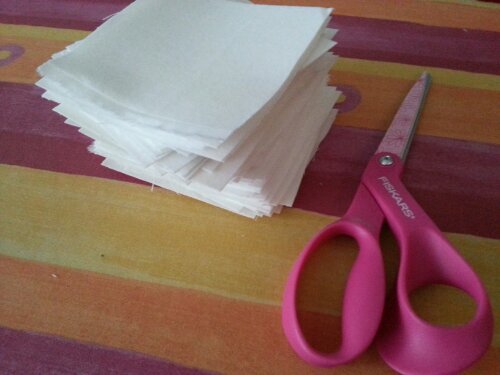 Not sure if my methods are the best for this, but since I was going to cut the flowers with my Big Shot I sort of had to cut pieces of the fabric, the die I got included four different styles of flowers which I didn't want so this step might be unnecessary for some.
Anyhow, start of by ironing the vlieseline on the fabric and make sure it's stuck. I kept my iron on a lower temperature while cutting out the squares just in case I missed a spot or two.
I cut out a template flower as a help for measuring out how large squares I needed. I ended up with 99 pieces. So happy I decided not to cut them out by hand.
Next I used my Big Shot with a Tim Holtz die named
Tattered Florals
. It went surprisingly well cutting fabric with the die, I was a bit unsure (first time I used the Big Shot too, everything was scary).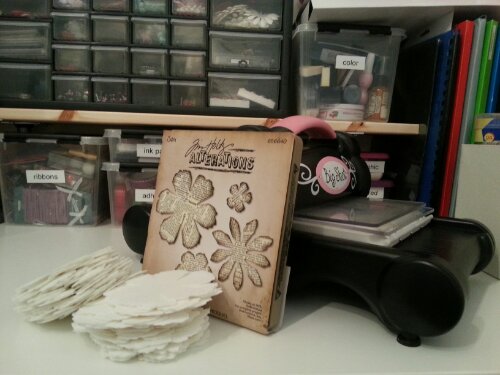 With all flowers cut out the next step is the fun part, assembling everything somehow!
I started with tying a few pieces (quite long ones, wasn't sure how long I wanted my lamp to be) of the fishing line on the lamp shade and then I simply took one flower and one floor protector and put the line between. The glue on the floor protectors impressed me, had to be a bit careful when putting it all together, I'm a perfectionist so it had to be placed in the middle, or at least somewhat close to it.
Here's a few pictures of the current result, I do like the scrawniness somewhat. I might add a few smaller flowers perhaps. I have to see what it looks like with a light bulb in.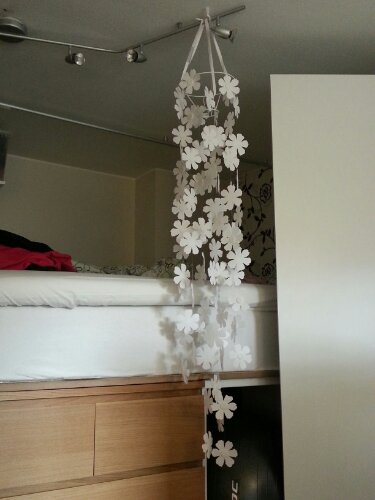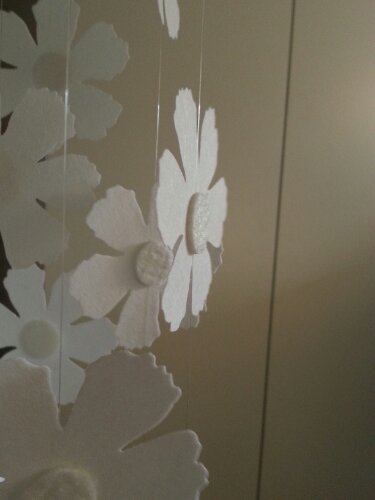 I might have chosen smaller flowers to match my tiny lamp shade better. Oh well, there's always a next time!