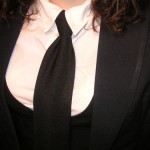 Today was the international suit up day (according to facebook) and since I like to dress up and join masquerades etc I wasn't late on planning my look for the day.
I found an old suit my granny and I made for my graduation five years ago and the jacket still fitted, somewhat at least. It surely did look better five years ago, he he. Anyway, I won't miss an opportunity to dress up and wear a tie!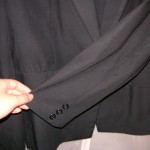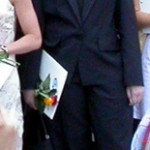 I was very satisfied with the result of our sewing, her are some pictures, not the best but good enough to get an idea. Both patterns were taken from Burda magazines, not related to each other.
I never had the time to add lining to the jacket but it looks good anyway!
Another sewing project I had the same summer was clothes for my mother's wedding.
I used patterns from Burda this time too and the fabric I used was dupion silk. I also made a purse in the same fabric.
I like details and I sew some of the visible seams with silver glittery thread and I embroidered a silver heart on the skirt.
The silk was nice and cool during the warm summer day in the end of August. I wore black ballerina shoes as well, the same shoes I wore on my graduation day. Love them!