This weekend left very little time for crafting and when I had the time I just couldn't get the inspiration or peace in order to get something done. Forced and slow, that's how this weekend's crafting went.
I managed to create one Easter card, it feels like something's missing, I just can't figure out what so I'll just leave it as it is. Inspired by the I love promarker challenge #158: Anything but square I made this egg shaped card.
Maybe a few butterflies would do it, I might take another look before sending it, there's still time to make improvements!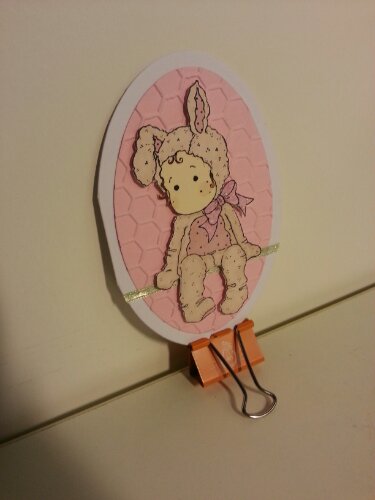 This card was inspired by the Fab Friday Challenge #13.
I do feel more pleased with this one, maybe it's the familiar shape and bold colors. Or the fact that it's a small card, a creation fit for this lack of inspiration I'm suffering from at the moment.
Another thing I'm happy about is the fact that I managed to use two of my cardboard decorations I've somehow collected over the years. It was one thing I thought I could go for as a goal this weekend (if everything else fails).
When I found these brackets in my forgotten drawer, I thought they were extremely boring, pale and.. cheap. While looking at them I just kept hearing Jennie telling me "you can always emboss or color boring things, I do that with brads sometimes. And use color/mists on boring papers!" I gazed at my color shelf, imagined them all, one by one on my black brackets.. And suddenly my I found it; my black diamond stickles! I looked at the brackets, back to the stickles tube, grabbed it and went nuts. Love it!
And as usual I manage to take the worst pictures.. I  just have to get that lightning right.