I have been waiting and longing for this weekend just so I can sit in my closet and craft for hours again. And do some cleaning and cooking of course. Crafting yesterday went extremely slow, I was a bit low on inspiration and slow to start up but managed to make a few cards. The goal was to make happy Easter cards and that didn't go very well. I did however make two birthday cards for upcoming birthdays in March.
This one is for my granny who turns 79 this year! Inspired by Mojo Monday #282 and Ladybug crafts current challenge.
The numbers are actually colored with chalk mist since I only had bigger white letters and numbers that would fit. I have a few other colors but I never ever have a card where they match with the colors.. but they are nice to look at!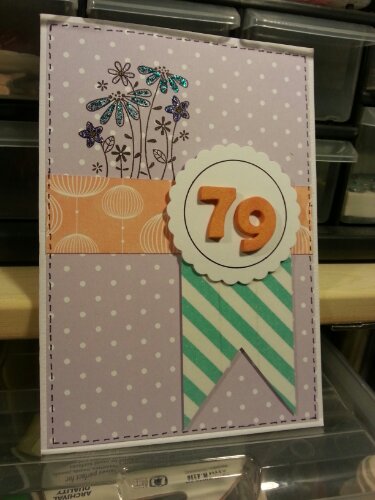 I made this for my brother who is turning 23.. And now when it's finished it feels more fit for a kid than a 20 something so I might add it to my growing pile of cards and make another one for him, more fit for his age.
Inspired by Seize the birthday #8 and 2 sisters challenge #133