March is the birthday month in my family and of course they all get handmade cards! A while ago we had one of those handicraft days again and I managed to complete nothing! I did come home with two half-finished cards tho and one of them was actually completed in time for my granny's birthday! I'm amazed!
Here's the card for my granny: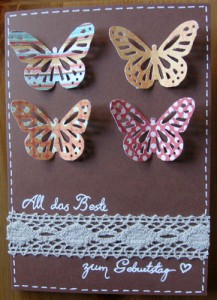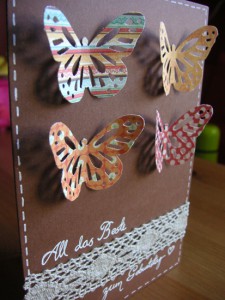 It says "All the best on your birthday" in german. I was actually thinking about her when I chose the colors for the card, I know she likes warm and vivid colors. The hardest part was how to finish it, I had to put some text or a sentiment. Anything! It was very empty with just the butterflies and ribbon, I'm very pleased with the results, for once.
This card was made for my mother, she loves tulips!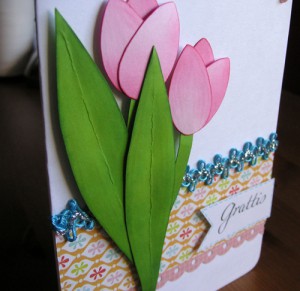 The tulips are hand made and colored, found a tutorial online for making awesome tulips, didn't follow it precisely but they ended up looking very nice anyway!
It took me quite some time to figure out how to add the "congratulations" to the card and I wish I'd put the pearl stickers a bit closer to eachother. But hey, it's handmade!
The next cards are for two of my cousins, one turned 20 and the other 13. For the 20 year old I wanted to make a classy card since she is very interested in fashion and always dresses very classy and good looking! She has style and I wanted her card to have that too. What makes something classy? It took me quite some time and googling for inspiration for this one but I think it ended up pretty well: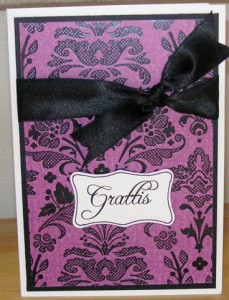 After my research I came to the resolution that classy and elegant cards are mostly very clean and simple with much white space and few decorations or details in one or two colors. Many cards were based on embossed paper or patterns which I don't have or can make (I need a big shot or similar!). I do like to use colors so this became something between classy and my style.
I like it and I think the receiver did too! (The ribbon saved it all, I'm sure.. nothing says classy more than wide satin ribbons!)
The last card is for my other cousin who turned 13, I wanted to give her a cool card and my intention was to use no pink at all since it's such a "girly" color but combined with black and white it does look a bit more cool than childish.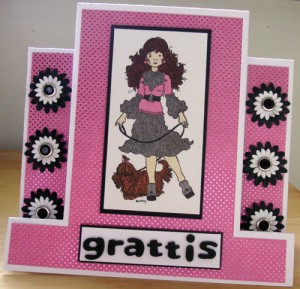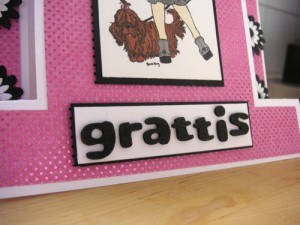 I think she liked the card, she loves dogs so at least she liked the stamp I assume, he he. But I do think she liked it even with the pink. The paper is gorgeous with metallic dots on it (from DCWV Black Currant). When I look at the pictures now I do think a black line or dashes at the edges of the pink paper would look nice, it feels somewhat empty and a bit simple. The card fold is called a center step card and I got inspired by the Alota Rubber Stamps challenge: Alota79 which is about making a center step card!