I found a few cards, completely forgotten somewhere on my disk, which I made during last year. I still have a lot of stuff to post sometime, some are old and some are newer. One day.. one day..
I made a card for my youngest cousin Lukas who had his naming ceremony a few weeks before Christmas. I'm not very pleased with the coloring on the stamp, it got a bit messy on the bear.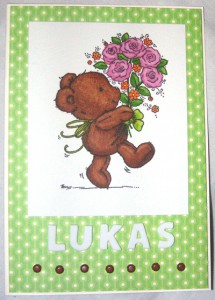 I also made a card for new year's eve (most likely the reason why I never blogged it). Since I was invited for a party I made a card with the presents (it was sort of a combined new year's and moving in party).
Quick and simple (oh I love to color stamps)!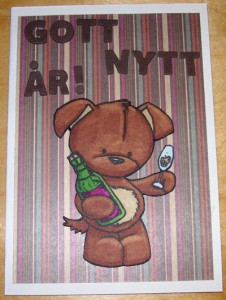 I have lots of ideas most of the time and I always tend to start new projects but never finish them. I started working on a baby body for a friend who recently got a second baby boy, and since I entered some crafting competition last year too (also completely forgotten) I decided to make the present for the baby but I never managed to finish it, only the card which I really like! Unfortunately I still have the card here in my box.. waiting for another baby boy to be born :P