Today I was inspired enough to make a card for the CASE Study Challenge #73 (CSC73). I started to think about the card yesterday, looking through paper and testing color combinations and today was all about putting it all together! I'm happy with the cards that doesn't take me hours to finish, it was just about quick enough!
Here's the card for the lovely challenge, I really liked the inspiration card and I hope I will use this technique many times (I just have to get me a few everywhere punches or similar).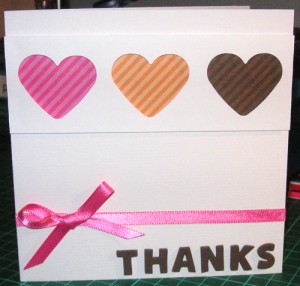 I don't know why but "tack" looks so much harder than "thanks" when written, it just never turns out good! Next time I'll have a go with something in German for my granny. Now it's time for some sleep, I have to get up early for work this week. Exhausting!