It's the crazy card week of the year, at least that's what it looks like to me!
Anyhow, today's card is for the CFC challenge #35 which is all about making a clean and simple card with scallops and here's my somewhat clean(?) but very simple card!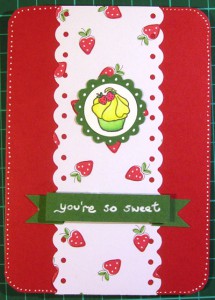 It's hard to get good pictures when the card is very red, especially bright red or I just need a new camera (which I've already stated and it's coming this year!) but you get the idea, the green does look somewhat better in real, slightly less yellowish (and dusty, he he).
Nighty!
And by the way, the card says "you're so sweet" but it looks like I've spelled it sweat, I promise I didn't! I'm just a bad and sloppy writer :P