I've spent my last vacation on doing things I like, such as baking, cooking and crafting. I like to use different challenges for inspiration when I'm making cards and this time I decided to enter the Mojo Monday challenge 201. The sketch to follow looks like this:
I decided to make a girly card with lots of pink!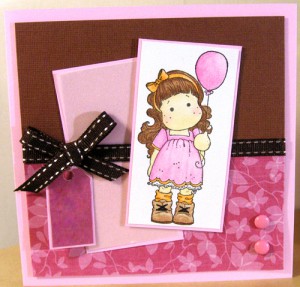 Whenever I decide to give it away or anything I'll put some text on the tag and as usual the stamp is colored using aquarelle pens. Paper from Slöjd-detaljer, Panduro and the lovely paper pad Desert Blooms, ribbon from Panduro and the stamp is from Magnolia.