So, it's been a while again.. I haven't had the time or inspiration to do anything neat and creative, I've mostly been ordering stuff online and putting them away again. I like to sort my pearls and scrapbooking stuff. I will use them, one day.. I hope!
Anyway, I had some time over this weekend and my cousin is graduating this Wednesday. So I made a card to go with the gift my mother got for her (I have no idea what it is). Got some inspiration from a challenge and a few ideas from other cards. I'm somewhat satisfied with the result, not the picture of it tho. It does look much better in real but I decided to enter my first blog challenge with it anyway. The card will be competing in this graduation theme challenge.
The sentiment says "A walk of a thousand miles  always begins with one step" or well, its not really miles but its not very important (one mil = 10 kilometers).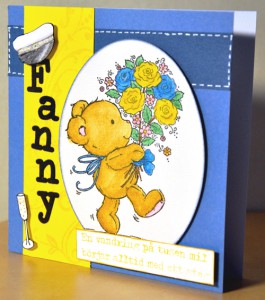 Hopefully I will be able to post a few more things this summer. I just have to get used to my new job and spend more time crafting on the weekends!