A card for my new born cousin. There's something about the card I don't like but I'm not sure what yet. The stamp is colored with aquarelle pencils, a technique I fell in love with.
I've always loved my "color books" I had when I was a kid. I used crayons, pencils, felt-tipped pens and water color. Basically whatever I had lying around. I've never really used aquarelle pencils before, except for one time in school I barely remember. The only thing I think could beat aquarelle at this point is copic markers. Veronica showed me a few youtube videos and they look amazing. Amazing and quite expensive. I think I'll stick to aquarelle for a while.
Anyway, here's the card for my new cousin. I don't know his name yet, but I'll keep calling him Theresius until it's decided ;)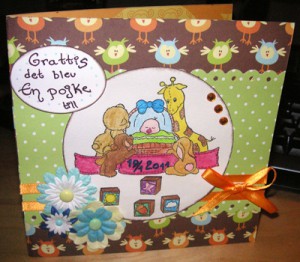 My thought was to make some sort of "Welcome to the world" card but then this idea/sketch got stuck in my head. The card says "Congratulations, it's another boy".
I think I'll make a second baby card for the introduction/beginnings theme later on unless I get another, better idea!