A mid week finished card for once! Just to be able to participate in a few challenges. For this card I had 2 sisters challenge #134: pastels, the crafty bloggers network #9: spring or pastel and a gem of a challenge #70: floral frenzy (I marked those words, he he)  in mind. And a bonus was to use the never ending paper flowers and brads from my stash. One tiny step towards extinction, yay!
I do feel that something is missing in the background but I'll just leave this as it is, there's just too much to do both at work and at my spare time this week, that's life!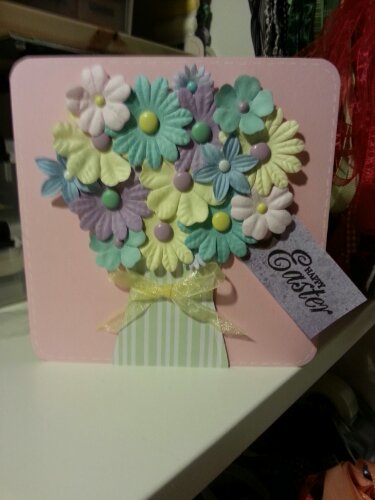 The colors do look slightly darker than they are, me and my crappy photos again! I guess the lightning in my closet is worthless for photos.. Could have figured that one out earlier to be honest! One day I'll make myself a lightbox or something similar, when I have the time.