Finally the time came for our crafty Saturdays, to be honest it was more like a crafty Sunday but it was pleasant as usual. We were quite a few joining this time and the variety of crafts was better than usual! We had a bunch working with cards and scrapbooking, some jewelcrafting, decoration, knitting and sewing. It was a very nice day and of course we had dinner at Svenska Sushihuset afterwards. It's a part of the tradition and their food is delicious!
I managed to make one card during the day, and I can't say I'm very proud over that achievement but luckily I didn't bring too much materials to the meeting. Only scrapbooking related items and a few beads.
Yesterday I baked Chocolate Chip Cookies for today and they are SOOO delicious! I made quite a few and ended up with some spare cookies.. poor me, hehe. Anyway, I really want to make more of them since they are so tasty and I want to share it with everyone I know. I hope there will be some birthday events or something soon that I can use as an excuse to make them again. Don't they look awesome?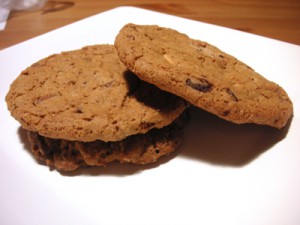 Yummy!