My grandfather turned 82 yesterday and I made a card for his birthday, and some cake.
I chose to use elements that I know he likes, such as raspberries, motorcycles, gold and shooting. He has been shooting in competitions for as long as I can remember and he took me and my brother for practice once a week when we were younger. I loved it and every summer I asked if we could go shooting with air pistols which he always brought with him to our summer house.
First I thought of adding a plain white or kraft tag but then I remembered I had some old paper targets left from my practice so I cut a tag out of one of them. Such a damn good idea I must say!
The raspberries are a few rhinestones glued together on a piece of paper, painted with some stickles to make them more pinkish.
My friend Jennie made the layout for me and the more I look at it, the more I like it. It's interesting how much positive feedback I've gotten from showing the picture of the card. Now I just have to analyze what makes this card so god damn fab!
Since there is a challenge at 2 sisters challenge blog with the theme "just for dad" I decided to enter with this one. Exciting!
I'm also entering the current Alota Rubber stamps challenge (alota109): make a wish. I wished my grandfather a happy birthday (and more to come!) with this card. I think he liked it, he watched all the details for a long time.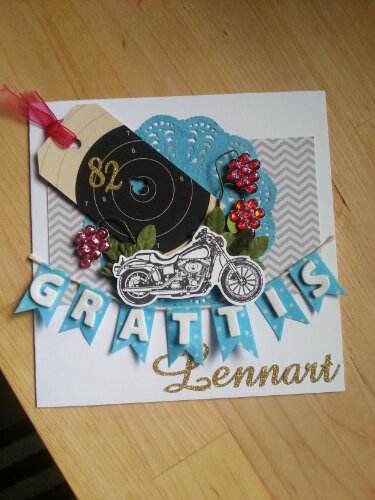 A closeup on the raspberries, so happy to use my bling stash!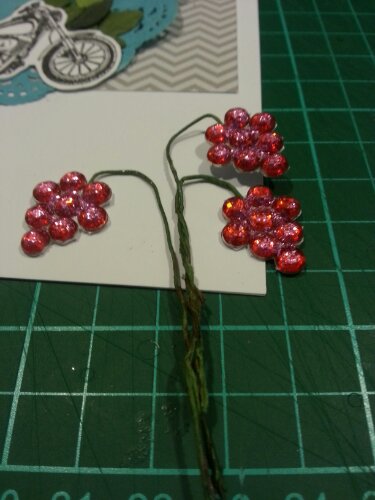 Here's the cakes I made, roll cake (directly translated from Swedish; rulltårta), it might actually be called Swiss roll when translating it. I prefer to call it roflcaek. Anyway, the red one is filled with mashed fresh raspberries and the brown one is filled with a nut creme! Next time I'll make one with lemon curd and maybe some strawberries.. *drool*