I finished my first scarf earlier this week, I'm quite satisfied with the result even though there are a few mistakes, my need for perfection did not beat my laziness this time. One stitch wrong is not enough for me to go back a few rows to correct it. Three stitches in a row, on the other hand, is a too big mistake even if it's six rows back.. I can't say I regret the choice, luckily! I'll just have to be more careful next when I'm knitting the second scarf.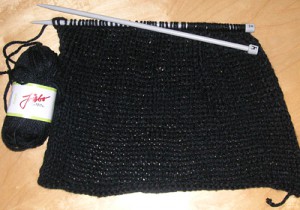 As the white scarf is finished I continued my work with the black shawl. I've used up one of ten balls and I think it will be nice when I'm done. I just wish I remembered to knit the first row with purl stitches to avoid the curl at the ends that easily happens when knitting stocking stitch.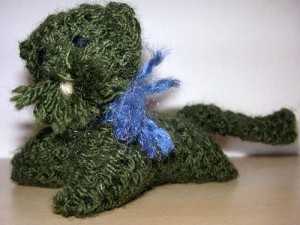 Another nice knitted item I have is a kitten my friend Malin made me a few years ago. I think she gave it to me the first or second time we met and I still keep it on my computer desk, it's so cute!